Record keeping and Project Reporting are valuable skills taught to members of the Kansas 4-H program. Members are encouraged to keep a permanent record of all 4-H and Non-4-H Experience and are encouraged to summarize their experiences on the Kansas 4-H Project Report Form for project recognition.
VERY IMPORTANT:
Before you begin to keep project record reports for the year, please make sure you have a current version of Adobe Reader DC. If you do not, you may download a free version, here: https://get.adobe.com/reader/

. When you click on that link, the following screen will appear. "Uncheck" the 3 boxes in the middle column and click on the link circled in green to begin your download. Follow the prompts to download and install Adobe Acrobat Reader DC.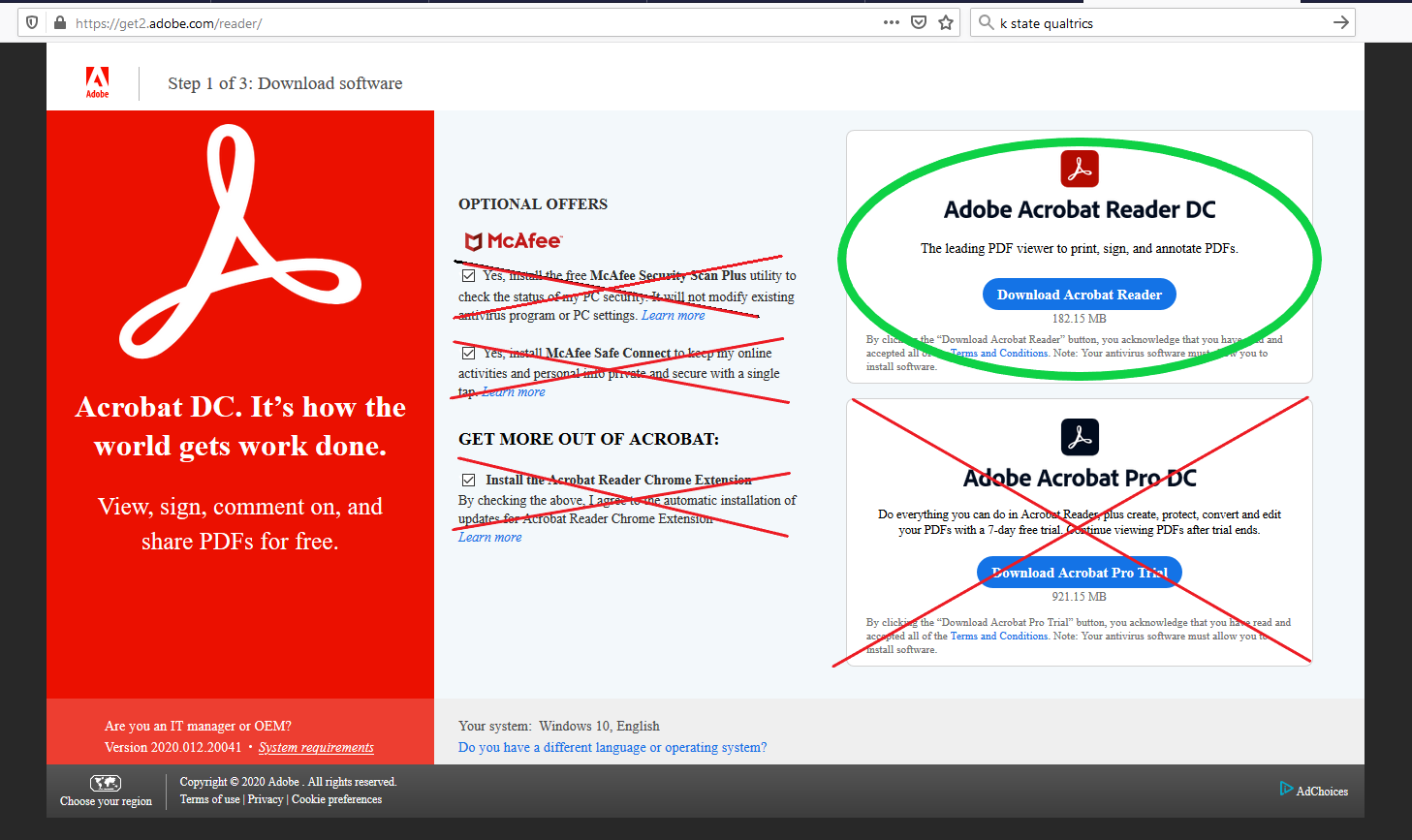 You have TWO options to turn in at the end of the 4-H year for record book achievement award considerations.
Record Book Workshop
Cloverbud Record Page found HERE!
Cloverbuds are not required to complete a Record Book; however, it is good practice!
*Please note: when opening a form below, please open it and save it to your desktop or device before entering information. You must download or open the form, then "save as" or you run the risk of losing your work.*
Option #1
Complete Your Record Book
The following items are the minimum requirements to be included for the Record Book to be considered complete.
All 4 items must be completed to receive recognition as completing the year in 4-H and receive a year seal at the Achievement Night.
1. Personal Page complete with picture. Download this form HERE!
2. 4-H Story completed. There is no specific form required for the 4-H story. Please type or hand write legibly and place in your record book.
3. Permanent Record up-to-date. Also available for download HERE! (This can be downloaded and updated each year.
4. Pictures (Optional)
5. Activity Sheet signed by your club leader. Download this form HERE!
6. PIN Applications below!
Option #2
Complete Your Kansas General Project/Animal Report Form
The unique thing about the Project Report Forms, is that they help you zero in on the projects you have completed! Expand and share your knowledge! This division is also eligible for county, area and state awards. To help you with this process refer to the Guide to Kansas 4-H Project Recognition.
4-H Project Recognition Check Sheet
1. 4-H Personal Page
2. 4-H Story
3. Kansas General/Animal Project Report Form that is age specific to the 4-H'er.To download the correct Project Report form, please select the age division necessary from the list below.
*Ages are as of January 1 of the current year, please be sure you download the correct document.*
7-9 Year Old
10-13 Year Old
14-18 Year Old
Project Evaluation Score Sheet
Key Award
The Key Award is also available for 4-H'ers to apply for. The following link shoots you to the Kansas 4-H Website where you can use the form-fillable application
The basic requirements for the Key Award include being the age of 16 (4-H age), having been enrolled in the 4-H program for at least 4 years and enrolled in the leadership project for at least 2 years.
For Leaders
Club Summary Forms can be downloaded here: Club Summary
Pin Applications
Pin Application Order
This is the order in which you will fill out your pins year after year: Click on the pin you are applying for to download a form fillable PDF version of the document.
#1 - Membership Achievement Pin.

#5 - Silver Achievement Pin.
#6 - Silver Guard Pin.
#7 - Leadership Achievement Pin.
#8 - Gold Achievement Pin.
#9 - Gold Guard Achievement Pin.