Kingman County & 4-H Fair
"Stars, Stripes & Summer Nights!"
July 27-30, 2022 at the Kingman Expo Center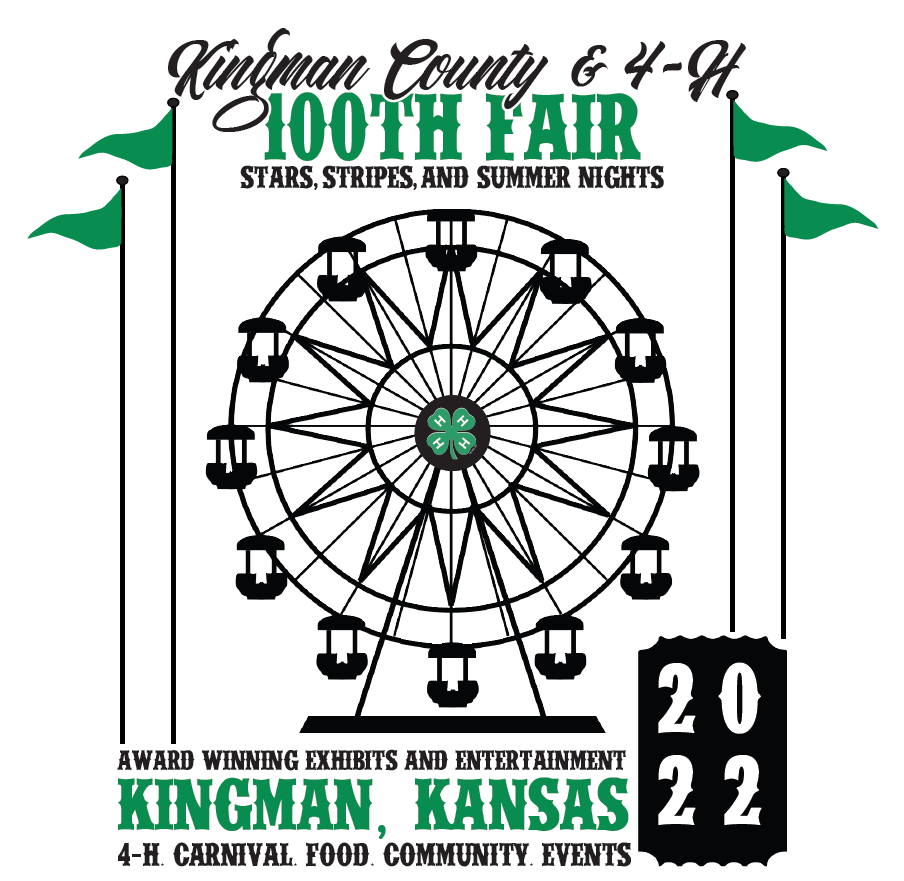 2022 Button Contest:
The 2022 Kingman County & 4-H Button Contest form is avaialbe here:
2022 Button Contest Application
Please have all entries submitted or post marked by March 28, 2022.
Please mail entries to KINGMAN COUNTY FAIR BOARD, P.O. BOX 325, Kingman, KS 67068.
Extra applications will also be available at the Kingman County K-State Research and Extension Office.
2022 T-Shirt Order Form
The 100th Kingman County & 4-H Fair is a milestone we would like to celebrate in a large way. This year we are offering the opportunity for all community members and supporters to purchase a memorable 100th Kingman County & 4-H T-Shirt! All t-shirts will be a short sleeve, cotton and polyester blend. T-shirts will be available for pick up during the fair at the Fair office.
*Remember, all 4-H Youth will receive a 2022 Fair T-Shirt with their fair entries, and each T-Shirt sponsor will receive a free T-Shirt. This form is for additional T-Shirts ONLY!
Helpful Links and Documents:
2022 Fair Rules and Regulations (Download)
2022 Kingman County & 4-H Fair Schedule
Entry Forms
4-H Eligibility Form -- If you intend to sell in the 4-H Purple Ribbon Food Auction or the 4-H Livestock Premium Auction, please fill out and return by July 10, the 4-H Eligibility Form. You can download this form here:4-H Eligibility Form
4-H Fashion Revue - You can download the Script Form here:4-H Fashion Revue Script Form. Fashion Revue Schedule Cost Per Wear (14 and Older)
Woodworking Plan Sheet - If you are entering a woodworking item, you need to also have a plan sheet attached. You can download the form here: 4-H Woodworking